Coming soon :
Drama :
Pinocchio
Date : 12 November 2014
Channel : SBS
Time : Wed -Thursday 21.55 pm KST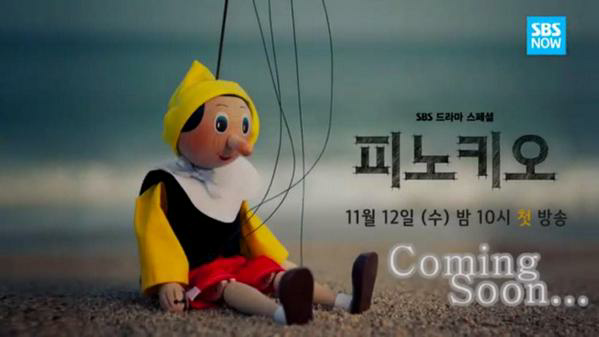 Story :

A story about a young reporter with Pinocchio syndrome (Park Shin Hye as Choi In Ha), hiccupping uncontrollably whenever telling a lie. And Lee Jong Suk (Choi Dal Po) will play an intelligent man with messy look. Both live together as uncle and niece because Dalpo was adopted by Inha grandfather. Basically, one man live in a lie and one woman cannot lie.

Pinocchio teases small-town high school romance Okay, the second teaser for SBS's upcoming Wednesday-Thursday drama Pinocchio is a step in the right direction — at least it contains a tidbit of story information and actually features the heroine of our story, which is more than I could say for the first teaser. The shows second teaser features glimpses of Park Shin-hye and Lee Jong-seok's past as sweet, happy high schools from a small country town.

They grow up together on a tiny island, and that marks the last happy phase in the heroic life. He suffers the loss of his parents and undergoes a transformation, eventually hiding his identity and becoming a whole new person altogether. So he's a character whose entire life becomes a lie, while our heroine is a character who can't lie. She suffers from Pinocchio syndrome, which sends her into hiccup fits whenever she lies. She grows up to be brutally honest for that reason, which ought to be fun.

The leads join Lee Yubi (Gu Family Book) and Kim Young-kwang (Plus Nine Boys) as a foursome of rookie news reporters, and Lee Pil-mo (Emergency Couple) plays their boss, a gruff PD whose face is permanently stuck in a frown. He's a man of principle who believes in the importance of truth above all else, which means he will be the mentor to whip our rookies into shape and inspire them.

Pinocchio follows current Wednesday-Thursday drama She's So Lovable, which is airing its last three episodes next week. That puts the premiere on November 12.

cr: dramabeans (Translated by Bing)
Main Cast :
Lee Jong Suk as Choi Dal Po
Park Shin Hye as Choi In Ha
Kim Young Kwang as Seo Beom Jo
Lee Yu Bi as Yoon Yoo Rae
Character Profile :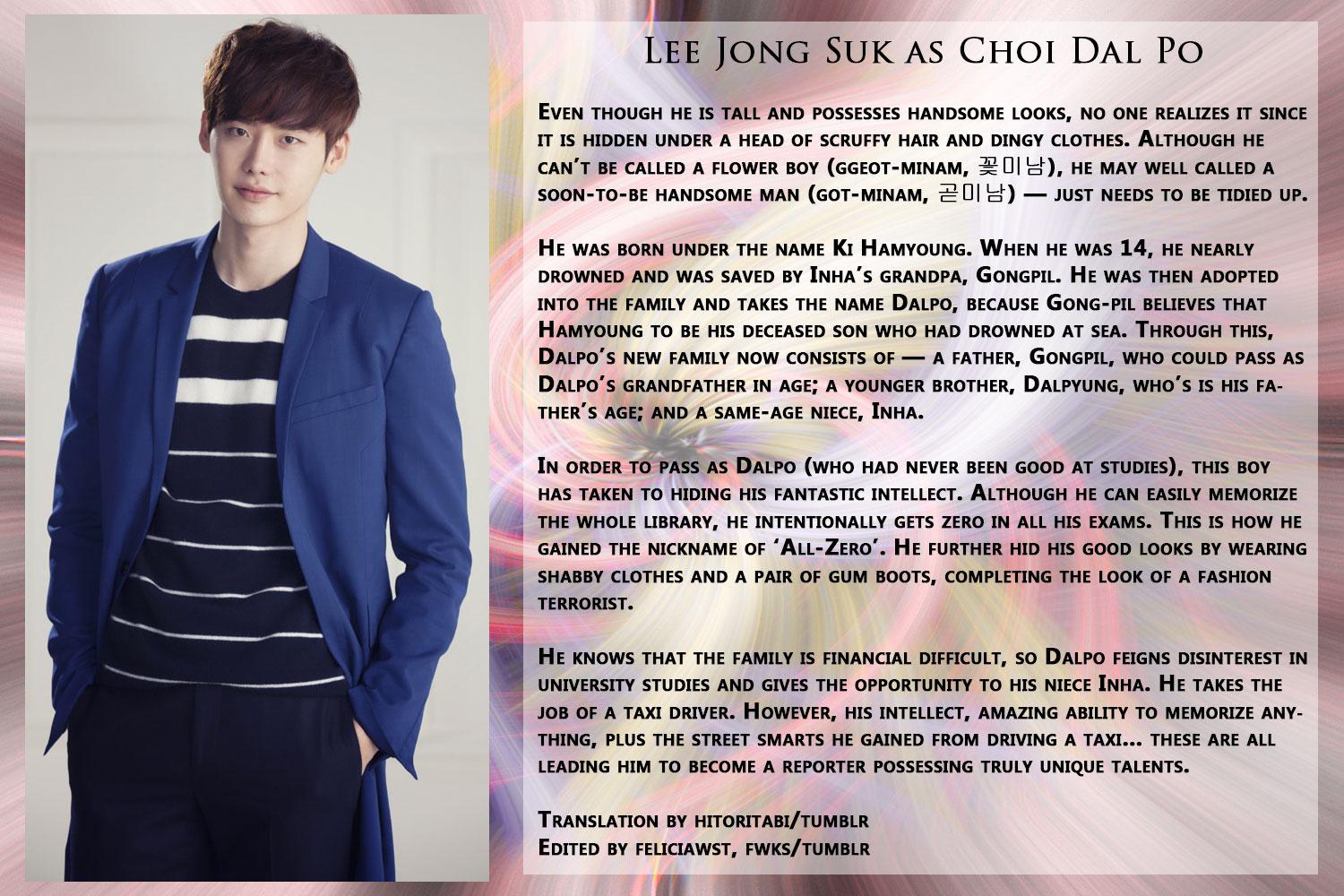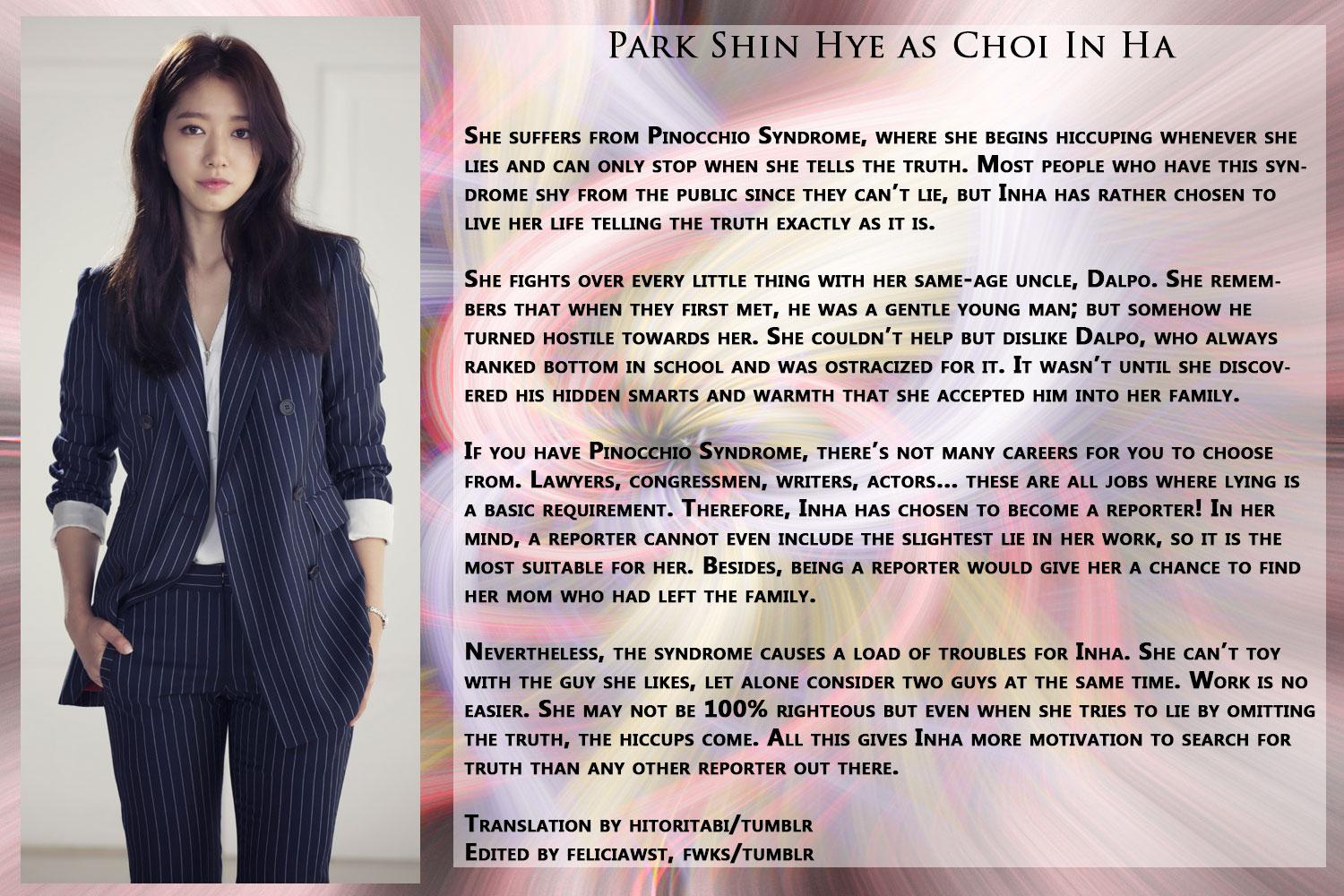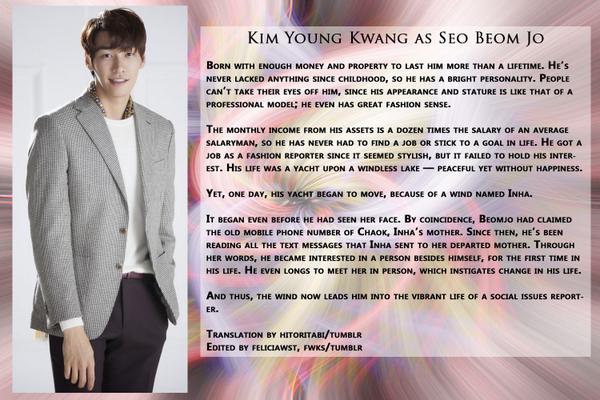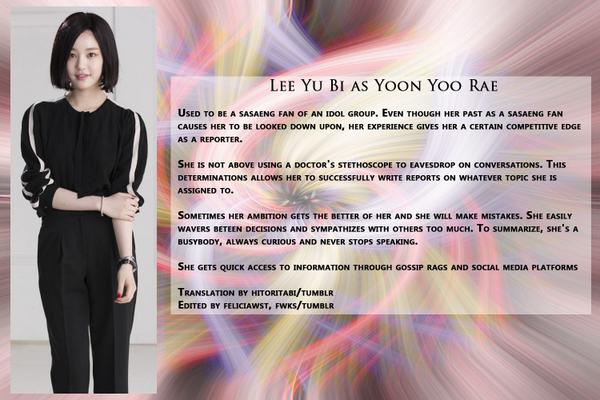 Teaser :
Teaser 1 :
http://youtu.be/0y7a-FCaoJA
Teaser 2 :
http://youtu.be/M_EHkBvBANE
Teaser 3
http://youtu.be/jA7Kapl9atU
Teaser 4
http://youtu.be/A5Z_C9clmxc
Press Conference:

Date & time: Nov. 6th, 2014 (Thursday) at 2PM.
Venue: SBS Broadcasting Centre, Mokdong, 13th floor (SBS hall).
Attendee: Lee Jong Suk, Park Shin Hye, Kim Young Kwang, Lee Yu Bi.
Highlight: Cast introduction, highlight video, take photo, interview.
Source:
SBS
Preview (Eng Sub) :
http://youtu.be/3aoSIRa-xvM
Notes :
All Pictures are not mine, thanks to the original uploaders, translator Hitoritabi and Feliciawst, PSH Soompi, PSHIC, also pshdramasupport and PSHStarlight tweets.

The Landlord :
Ha...ha...ha...nak jugak menyelit drama Korea kat blog ni yer.....Park Shin Hye punya pasal....Minat dia dah lama, sejak 5 tahun lepas selepas menonton drama lakunannya You're Beautiful..

Dia berbakat untuk berlakon (terutama crying scene), menyanyi, menari dan fotografi, Dia pandai banyak perkara lagi seperti memasak (ibubapanya ada restoren di Korea), sukan seperti baseball, sukan air (wakeboarding), mountain climbing, flower arrangement dan sebagainya.. Kalaulah saya punya banyak kemahiran sepertinya.
Yang paling saya suka Park Shin Hye suka buat amal kebajikan, selain derma wang, dia juga selalu terlibat dengan aktiviti kemasyarakatan secara sukarela bersama ibunya di Korea. Dia juga pernah melakukan kerja amal di Nepal dan Ghana sebelum ini. Boleh baca sini Park Shin Hye Volunteer
Bukan senang tau artis nak luangkan masa dan tenaga bergaul dengan orang-orang yang memerlukan bantuan macam orang miskin, orang-orang tua dan anak yatim (bukan setakat derma wang sahaja, ini semua orang boleh buat senang-senang).
Personaliti Park Shin Hye...... awesome!
Ha...ha...ha.. there you go....berjela memuji Park Shin Hye. Free nih...tidak berbayar.


Until next time.
xoxo